Rooms & Suites in the Hotel Pfalzblick in Dahn
Palatinate vacations made cozy.
Choose from double rooms, family rooms, suites and single rooms.

Our rooms & suites are your home-away-from-home in the Hotel Pfalzblick in Dahn. You can relax on your balcony or terrace with a view of nature. And the beds make sleeping a dreamlike experience.
The single rooms have a French bed. Single occupants can also stay in double rooms upon request and for a surcharge.

Midweek stays have a price advantage of €16.00 per person and day. This will be taken into account with your online booking. 

Early bookers' advantage: Book at least two months before your arrival and you receive an early booker discount of €6.00 per person and night. This will be applied to your online booking.
Gift Voucher
Accepted value range:
from € 30,--
Delivery method
Presentee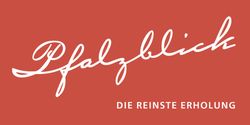 Hotel Pfalzblick
Hotel Pfalzblick KG
Goethestraße 1
66994 Dahn
Germany
Do you have any questions?
+49 (0) 6391 40 40
+49 (0) 6391 40 45 40






Your data is safe!
PCI DSS
In compliance with the standards according to the Payment Card Industry Security Standard for companies that save, process or transmit credit card data.
Encrypted transactions
In an encrypted transaction, the data is transmitted securely from your computer to us and protected from third-party access.
Voucher 1
Delivery method
via Email
To me
Total price:
€ 30,--
VAT included